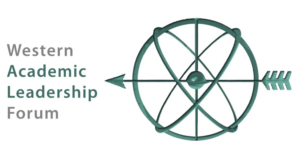 Western Academic Leadership Academy
Professional development opportunity for aspiring provosts
The Western Academic Leadership Academy (Academy), launched in 2015, is a year-long professional development program for academic leaders aspiring to become chief academic officers in the WICHE region's postsecondary four-year sector. The Academy, sponsored by the  Western Academic Leadership Forum (Forum), seeks to encourage the talents of the next generation of Western provosts by helping to build the knowledge and skills of academic leaders who are poised to move to that level. 
About the Program
The Academy's faculty members share their expertise on the unique roles and responsibilities a provost assumes at a four-year institution and system. They focus specifically on developing practical skills within academic affairs, fiscal affairs, student affairs, and external relationships, with a special sensitivity to the culture and environment of the West's higher education community.
The summer seminar is followed by opportunities for cohort members to meet with a faculty mentor as well as their cohort colleagues at national meetings or electronically throughout the year for individual consultation about career paths. The Academy's program culminates in a session at the Western Academic Leadership Forum annual meeting the following spring.
Academy Faculty
Are sitting campus provosts and system chief academic officers from the Western region

 

S

hare 

expertise on the unique roles and responsibilities a provost assumes at a four-year institution and system office

 

 

S

pecifically focus on developing practical skills within academic affairs, fiscal affairs, student affairs, and external relationships, with a special sensitivity to the culture and environment of the West's higher education community

 
Program Elements
Intensive three-day

,

 face-to-face seminar at WICHE's headquarters in Boulder, C

O

 

Cohort members 

meet with a faculty mentor as well as their cohort colleagues at national meetings or electronically throughout the year for individual consultation about career paths

 

 

Academy's program culminates in a face-to-face session at the Western Academic Leadership Forum annual meeting the following spring