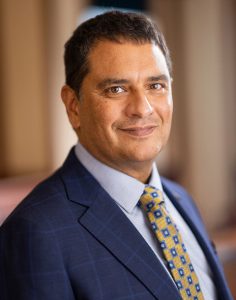 BOULDER, Colorado – Dr. José Luis Cruz Rivera, president of Northern Arizona University (NAU), has been appointed by Gov. Doug Ducey to the Western Interstate Commission for Higher Education.
WICHE's 48 commissioners are appointed by the governors of the 15 Western states and the U.S. Pacific Territories and Freely Associated States. The commissioners are leaders in higher education and include state higher education executive officers, college and university presidents, legislators, business and community leaders, and other key partners. Together, the commissioners guide WICHE's strategic direction and assure that the Western Regional Compact is carried out for the benefit of the West.
Dr. Cruz Rivera is replacing Dr. Rita Cheng, who previously served as NAU president and was a WICHE Commissioner from 2018-22.
Before joining NAU in 2021, Cruz Rivera served as president of Lehman College of The City University of New York (CUNY) and as executive vice chancellor and university provost of the 25-campus system. He has also served as provost of California State University, Fullerton, vice president of Higher Education Policy and Practices at The Education Trust in Washington, D.C., and chief student affairs officer for the University of Puerto Rico system.
"I am honored to join the WICHE Commission, and I am thankful to Gov. Ducey for this appointment and his support of higher education in Arizona," Cruz Rivera said. "I look forward to collaborating with my colleagues on the commission to advance our shared goals, and to ensuring that throughout the west in WICHE states and territories we are working together to provide equitable access to higher education, resulting in transformative outcomes for our students and significant benefits to the region's economic vitality and social well-being."
WICHE President Demarée Michelau said Cruz Rivera's vast experience in leadership roles at different types of postsecondary institutions and his expertise in higher education policy will be a great asset to the WICHE Commission.
"Dr. Cruz Rivera's dedication to equitable education policies and practices will complement and enhance WICHE's efforts to help colleges and universities in the West improve student access and success," Michelau said. "We look forward to working closely with him on issues of importance to the West."
A leading national advocate for policies to expand opportunities and improve educational outcomes for all students — especially those who have historically been marginalized and underserved — Cruz Rivera is a frequent keynote speaker and writer on higher education issues and serves on several regional and national boards of organizations that work to advance equitable educational policies and practices.
____________
About WICHE
Since 1953, the Western Interstate Commission for Higher Education has been strengthening higher education, workforce development, and behavioral health throughout the region. From promoting high-quality, affordable postsecondary education to helping states get the most from their technology investments and addressing behavioral health challenges, WICHE improves lives across the West through innovation, cooperation, resource sharing, and sound public policy. WICHE members include Alaska, Arizona, California, Colorado, Hawai'i, Idaho, Montana, Nevada, New Mexico, North Dakota, Oregon, South Dakota, Utah, Washington, Wyoming, and the U.S. Pacific Territories and Freely Associated States (the Commonwealth of the Northern Mariana Islands, Guam, the Republic of the Marshall Islands, and the Federated States of Micronesia).
###