BOULDER, Colo. – Danita Bye has been appointed to the Western Interstate Commission for Higher Education (WICHE), representing North Dakota.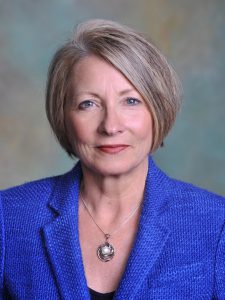 The WICHE Commission is comprised of 48 commissioners appointed by the governors of the 15 Western states and the U.S. Pacific Territories and Freely Associated States. The commissioners are leaders in higher education and include state higher education executive officers, college and university presidents, legislators, business and community leaders, and other key partners. Together, they guide WICHE's strategic direction and assure the Western Regional Compact is carried out for the benefit of the West.
Danita Bye was appointed to the State Board of Higher Education in May 2020. She currently serves on the board for the North Dakota Petroleum Council and The Triple T, Inc., and TTT Minerals, LLC, both oil and gas companies.
Bye has previously worked as an investor and sales manager for Micro-Tech and in sales and sales management for Xerox Corporation. She has been a business consultant and leadership coach since 1997 for businesses in the science, technology, engineering, and manufacturing industries. Additionally, she has served on the North Dakota Economic Development Foundation.
"Higher education is facing unprecedented disruption from multiple angles – economically, demographically, digitally, and culturally," Bye said. "Embracing educational access, innovation, and excellence, while embracing strong ethics is vital to economic and social vitality. I am honored to join the WICHE Commission and work on initiatives addressing these issues."
WICHE President Demarée Michelau noted that Bye's extensive experience in a variety of industries will be a great asset to the WICHE Commission.
"Danita Bye's passion for higher education, background in business and economics, and dedication to WICHE's mission will enhance the Commission's efforts to improve access to higher education in the West," Michelau said. "We are excited to welcome her to WICHE and look forward to her contributions."
Bye holds bachelor's degrees in biology and psychology from the University of Sioux Falls and a master's degree in transformational leadership from Bethel University.
____________
About WICHE
Since 1953, the Western Interstate Commission for Higher Education has been strengthening higher education, workforce development, and behavioral health throughout the region. From promoting high-quality, affordable postsecondary education to helping states get the most from their technology investments and addressing behavioral health challenges, WICHE improves lives across the West through innovation, cooperation, resource sharing, and sound public policy. WICHE members include: Alaska, Arizona, California, Colorado, Hawai'i, Idaho, Montana, Nevada, New Mexico, North Dakota, Oregon, South Dakota, Utah, Washington, Wyoming, and the U.S. Pacific Territories and Freely Associated States (the Commonwealth of the Northern Mariana Islands, Guam, the Republic of the Marshall Islands, and the Federated States of Micronesia).
###