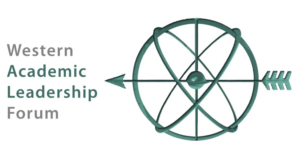 Forum Executive Committee
Representing each WICHE state
The Western Academic Leadership Forum (Forum) is governed by an executive committee of 16 individuals, with one selected from the members' official representatives in each WICHE state and territory. This group has oversight responsibility for Forum activities. It meets face-to-face twice per year and otherwise by conference call as needed. 
The committee is governed by a chair with overall leadership responsibility for activities of the Forum. The vice chair usually assumes the position of chair at the conclusion of that meeting. 
WICHE serves as fiscal agent for the Forum. 
Governance Policies and Guidelines