BOULDER, Colorado – The Western Interstate Commission for Higher Education (WICHE) is pleased to announce that Molly Hall-Martin, Ph.D., has been selected as the director for the WICHE State Authorization Reciprocity Agreement (W-SARA).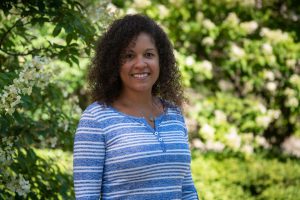 Previously, Dr. Hall-Martin (Kul Wicasa Oyate/Lower Brule Lakota) served as the director of student preparation and success for the South Dakota Board of Regents, a staff member at Lower Brule Community College, and an intern at both the Institute for Higher Education Policy (IHEP) and the State Higher Education Executive Officers Association (SHEEO). She holds a bachelor's degree in American Indian studies from the University of North Carolina, a master's degree in adult and higher education from the University of Oklahoma, and a doctorate degree in higher education and student affairs from the University of Iowa.
"I am humbled and excited to be working in this role at WICHE to help move the work of state authorization reciprocity forward, especially to help institutions and states best serve the needs of students," Dr. Hall-Martin said. "And I am particularly honored to be serving the region I've considered my home since childhood."
As the W-SARA director, Dr. Hall-Martin will manage the implementation, administration, and oversight of postsecondary distance education activities in the West. The State Authorization Reciprocity Agreement (SARA) is a voluntary initiative designed to establish comparable standards for U.S. states and territories regulating postsecondary distance education. The agreement enables institutions to gain approval to offer distance education in participating states without having to individually apply to each state. Visit www.wiche.edu/collaboration-leadership/w-sara.
"Dr. Hall-Martin is a collaborative leader with extensive relationship-building skills and experience navigating the complex policy environment that is interstate postsecondary distance education," said Patrick Lane, Ph.D., WICHE vice president, policy analysis and research. "Her background in postsecondary policy research, passion for equity, and dedication to students in the West are a great asset to SARA and to WICHE."
____________
About WICHE
Since 1953, the Western Interstate Commission for Higher Education has been strengthening higher education, workforce development, and behavioral health throughout the region. From promoting high-quality, affordable postsecondary education to helping states get the most from their technology investments and addressing behavioral health challenges, WICHE improves lives across the West through innovation, cooperation, resource sharing, and sound public policy. WICHE members include: Alaska, Arizona, California, Colorado, Hawai'i, Idaho, Montana, Nevada, New Mexico, North Dakota, Oregon, South Dakota, Utah, Washington, Wyoming, and the U.S. Pacific Territories and Freely Associated States (the Commonwealth of the Northern Mariana Islands, Guam, the Republic of the Marshall Islands, and the Federated States of Micronesia).
###